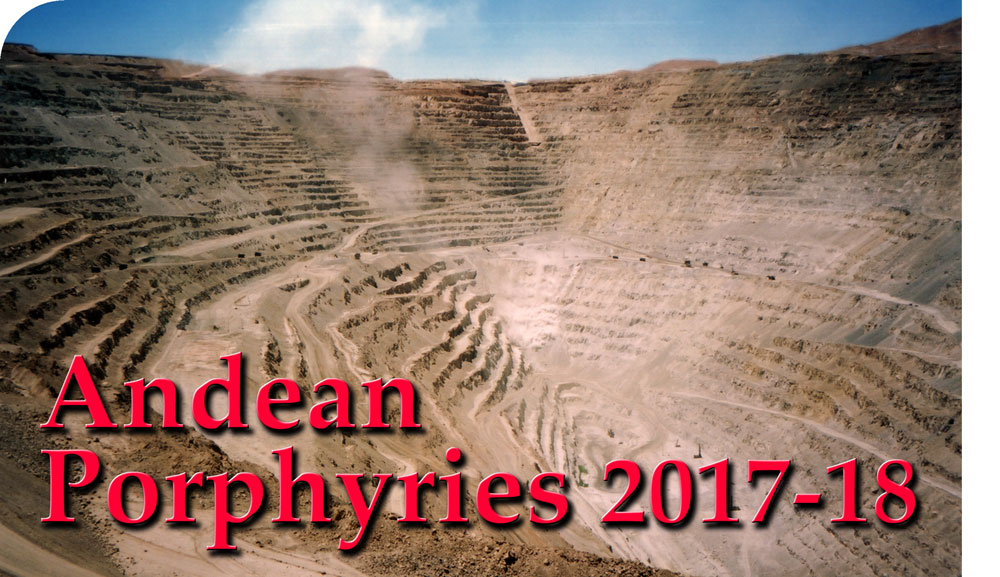 Porter GeoConsultancy conducted a geological tour in two parts that visited a selection of the most significant porphyry Cu-Mo, Cu-Mo-Zn, Cu-Au and Au systems and provinces, from Cretaceous to Pliocene in age and from Chile to northern Ecuador, including 'classic' porphyry, porphyry-skarn, porphyry-breccia and porphyry-epithermal deposits, and supergene derivatives.


This professional development course provided a comprehensive overview of the scope and variability of the occurrence of 'porphyry related' deposits, and their common and contrasting characteristics.


Participants could take any 3 or more days, up to the full module, as suited their budget, availability or interest.


Photo Album - who went & what they saw.


Tour Content - deposits, descriptions & program.

This tour was in two parts, as follows:


Andean Porphyries 2017 - between Sunday 23 and Saturday 29 April 2017, visiting four deposits in the Central Andes of Chile, Rio Blanco-Andina, Collahuasi, Chuquicamata and Antucoya.


Andean Porphyries 2018 - between 4 to 18 June 2018, and included six major deposits from Cerro Verde and Las Bambas in southern Peru, through Yanacocha, Toromocho and Antamina in the Peruvian Andes, to Cascabel in the Northern Andes of northern Ecuador.